three-room house, it is staggering to learn how much life has changed since she stumbled upon archery as a pigtailed 13-year-old in 2003. Pranitha confesses that back then she was more content to play girly make-believe games, help her mother, Vijaya, with mundane household chores like mucking out the cowshed, or wander about in the familiar emerald and jade patchwork of paddy fields where her father, Keshava Rao, toiled.

In fact, no one in this nondescript village, embedded deep in the core of Warangal district, had even heard of archery until the Rural Development Foundation (RDF)—a not-for-profit organisation that runs the RDF Kalleda Rural School where Pranitha was enrolled—embarked on an ambitious experimental programme in 2003 to introduce archery as a compulsory course for the village kids.

<![if !vml]>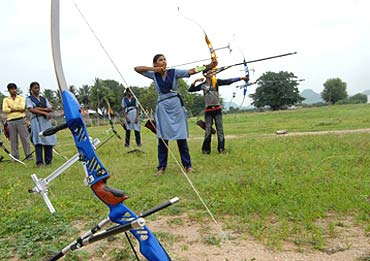 <![endif]>
A practice session under way at Kalleda
Why archery? "There are some sports where certain countries or races hold a natural, genetic edge over others," explains former RDF secretary Ram Mohan Rao. "Take distance running for instance, where a particular tribe from the Ethiopian highlands has dominated the world stage. We wanted to choose a discipline where there are no such entry barriers. Also, archery has a lot of multicultural heroes surrounding it—Robin Hood, William Tell, and closer home, Arjuna. So with proper motivation and rigorous practice, it's easier to get the kids excited about it," he says.

The experiment was a shot in the dark and began humbly, with a target pitched on a grassy patch of land inside the school grounds. With an average annual budget of Rs 5 lakh set aside for the project, several sets of gleaming carbon-fibre bows and aluminium arrows were imported. Every morning at 6 am, the kids would stream in—on bicycle, by foot, and even by bus from neighbouring villages in the Parvathagiri mandal—to begin pecking away at their target.

With initial backing from Anil Kamineni, secretary general, Archery Association of India (AAI), the school also managed to hire a dedicated coach in Prabir Das, a three-time former national champion from Calcutta who is also credited with having mentored Dola Banerjee in her formative years. "Imagine, two of my kids at the Olympics!" he exclaims in a proud papa sort of way.

Pranitha belonged to the first batch of subjects that was tested at this rudimentary sports lab. "Initially, it was quite dull to have to keep plucking away at a bowstring to try and hit a target that looked no bigger than a thumbtack over and over again. It was inconvenient to get up at 5 am every morning to get to the practice sessions on time. And difficult to communicate in sign language with a coach who spoke only Hindi and Bengali," she admits.

"We didn't understand the sport either, and occasionally Pranitha would protest against going," Vijaya says.